This SLOW COOKER POT ROAST is an easy take on a classic dish. The beef is so incredibly moist and tender that you'll never make it in the oven again. Just a few simple steps and then let the slow cooker do all the work for you. It's melt-in-your-mouth delicious!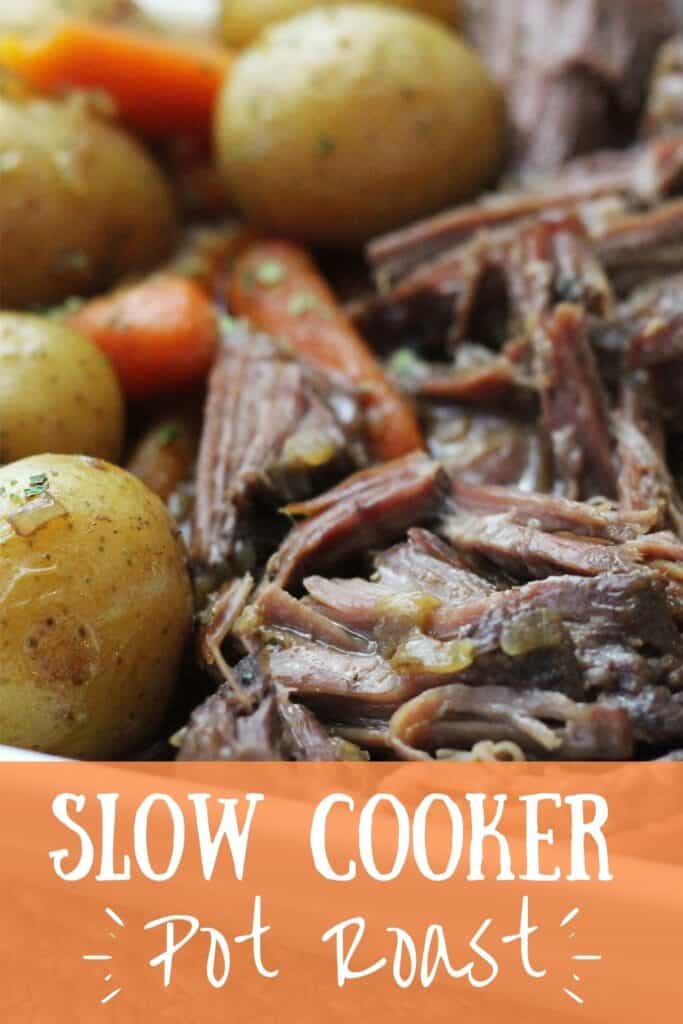 Honestly- I used to think pot roast tasted somewhat boring and bland. It never sounded like an exciting meal to eat. But along came this Slow Cooker Pot Roast recipe and I started hearing the hallelujah chorus. Folks- it's unbelievably good. Like, jump up and down when it's finished good. And it's EASY! I mean, why wouldn't I be excited when the slow cooker does the majority of the work? Trust me, you won't want to make it any other way again!
HOW TO MAKE IT
This SLOW COOKER POT ROAST is really easy. Add a few optional (not difficult) steps and you'll have the perfect meal in no time.
SEASON– chuck roast with salt, pepper, and garlic. Add more or less seasonings to your taste.
SEAR– chuck roast in a skillet for just a few minutes on each side. For me, that only ended up being about 3-4 minutes per side and the roast turned brown just on the outside. This is optional but I do feel like it takes it from a VERY good pot roast to THE BEST!
PLACE– chuck roast in slow cooker
POUR– beef broth in the skillet to remove the drippings and then add to the slow cooker. Only do this step if you seared the roast first. Those drippings make the flavor so much more savory and delicious!
ADD– Worcestershire sauce to the roast
MIX– onion soup mix, parsley, and thyme together and then pour directly on the chuck roast. Try to keep as much of this on the roast as possible without it all falling into the pot. It will slowly season the meat and start dripping down the sides as it cooks.
COOK– on LOW for about 6-8 hours or until the roast is very tender. I really don't recommend cooking this on HIGH. It just doesn't allow the meat to become that fall-apart-tender that you want in a good pot roast.
ADD– carrots and potatoes about halfway through. I often use baby carrots and potatoes. They're just easier because there's no need to cut them up. I'll take a pair of tongs, lift the roast and dump them in the bottom and put the roast back on top. This way, the juice from the roast smothers the carrots and potatoes while it continues to cook so they taste absolutely fantastic! Again, this is optional if you just want the meat only but why not make it an entire meal when it's just so easy?
EAT– pull the roast out and slice or pull it apart. If you let it cook long enough, it should just pull away easily with a fork. IT'S SO DELICIOUS!
*For more detailed instructions, see recipe card below and print.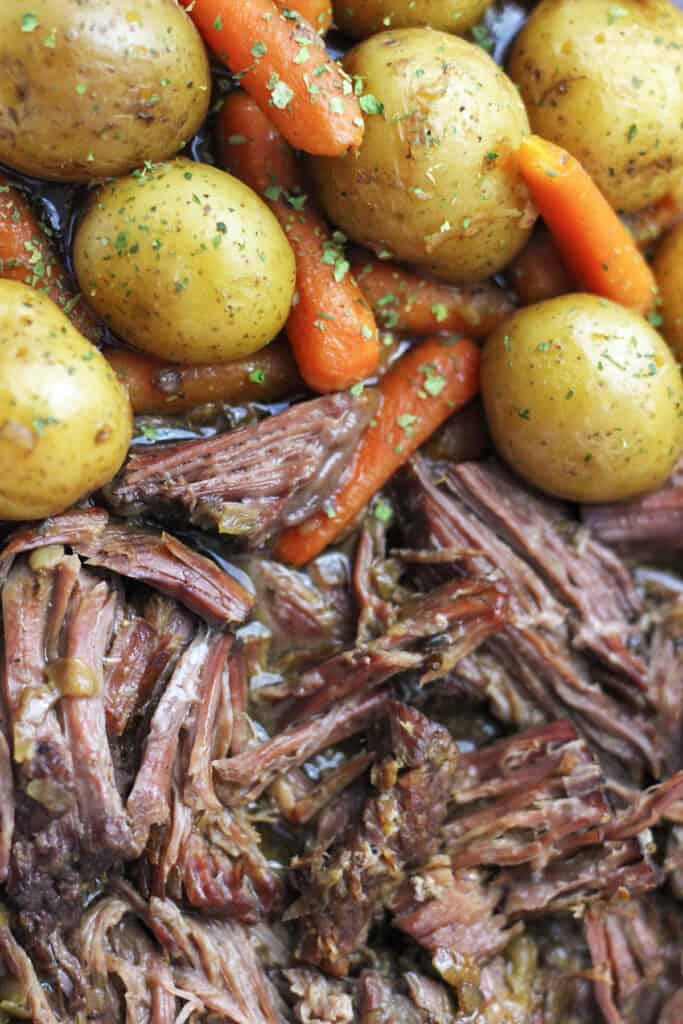 INGREDIENTS
OIL: most oils will work for this dish. I typically use canola or olive oil. I like the flavor it give with the beef.
CHUCK ROAST: the beef I like to use is a chuck roast. The reason is that it tends to have a lot of marbling, which gives off a lot of drippings and flavor. Plus it seems to be more affordable- win-win! You could also use beef brisket or bottom round roast with somewhat similar results but they do vary in price.
SALT: I like salt. It gives SO MUCH FLAVOR! So tend to be heavy-handed with salt on my meat. But if you need to cut back, just use a sprinkle. I don't recommend eliminating it completely though because it would end up making your meat bland without it.
PEPPER: use to your heart's desire
GARLIC POWDER: I feel the same about garlic as I do salt. But it's not as crucial to use a lot as it is with salt and can be eliminated if you really don't like it. BUT I do still feel like it will lose a lot of its savory flavor without it.
BEEF BROTH
WORCESTERSHIRE SAUCE
ONION SOUP MIX: kind of the secret ingredient here. Just takes it to a whole new level of savory goodness!
THYME
PARSLEY
CARROTS: optional but delicious. Any type will taste good.
POTATOES: also optional but delicious. I think you would need to quarter or dice potatoes into large chunks if you don't use baby potatoes to be sure they cook thoroughly.
VARIATION OPTIONS
BEEF– I recommend a chuck roast but a beef brisket or bottom round roast could also work.
GARLIC POWDER– you could substitute minced garlic for this instead. I just use garlic powder for the convenience.
SEASONINGS– you really can tailor this to your preferences. Add more or less to your desire.
VEGETABLES– totally optional to add but I think it makes meal planning so much easier if it's all made in one pot.
BUDGET/TIME-SAVING IDEAS
I am always looking for ideas to save money or time. Here are a couple of ways this could help you if this recipe is out of budget or you are on a time crunch:
chuck roast seems to be the most affordable option. BUT if you find another cut much cheaper, give it a try!
use whatever fresh or dried herbs you have on hand
meal prep- lasts up to 3-4 days in the refrigerator
HEALTHY ALTERNATIVES
If you're needing to reduce sodium, use low sodium beef broth. You could use just half a packet of onion soup mix but it might not be as savory.
This SLOW COOKER POT ROAST is a savory, feel good dish that you and your loved ones will enjoy for years to come!
Slow Cooker Pot Roast
This SLOW COOKER POT ROAST is an easy take on a classic dish. The beef is so incredibly moist and tender that you'll never make it in the oven again. Just a few simple steps and then let the slow cooker do all the work for you. It's melt-in-your-mouth delicious!
Ingredients
1

tbsp

oil

3

lb

chuck roast

1/2

tsp

salt

to taste

1/2

tsp

ground pepper

to taste

1/2

tsp

garlic powder

to taste

2

cups

beef broth

1

tbsp

worcestershire sauce

1

oz

onion soup mix

1/8

tsp

thyme

1

tsp

parsley
OPTIONAL
carrots

baby or peeled and diced

potatoes

baby or diced
Instructions
Heat oil in a large skillet over medium-high heat. Generously season chuck roast with salt, pepper, and garlic powder. Place roast in pan and sear for 3-4 minutes on each side until brown. Turn off skillet, remove roast, and place in the bottom of a slow cooker.

Add beef broth to the skillet and stir to break up any drippings from the bottom of the pan. Pour drippings and broth over the roast in the slow cooker. Add worcestershire sauce to the slow cooker.

In a small bowl, mix onion soup mix, parsley, and thyme together. Sprinkle over the top of the roast.

Cover slow cooker and allow to cook for 8-10 hours on LOW, or until meat is very tender.
OPTIONAL
Half way through cooking, using tongs lift roast and add potatoes and carrots to the bottom of the slow cooker. Place roast on top of potatoes and carrots and allow to finish cooking, approximately 4 hours or until meat and vegetables are tender.