Slow Cooker Shredded Chicken
This Slow Cooker Shredded Chicken is exactly what you need as a staple in your home. The chicken becomes so tender and juicy with only a few savory ingredients so that meal prep becomes so simple and easy. Perfect to freeze into individual portions so you'll have delicious chicken on hand for any meal.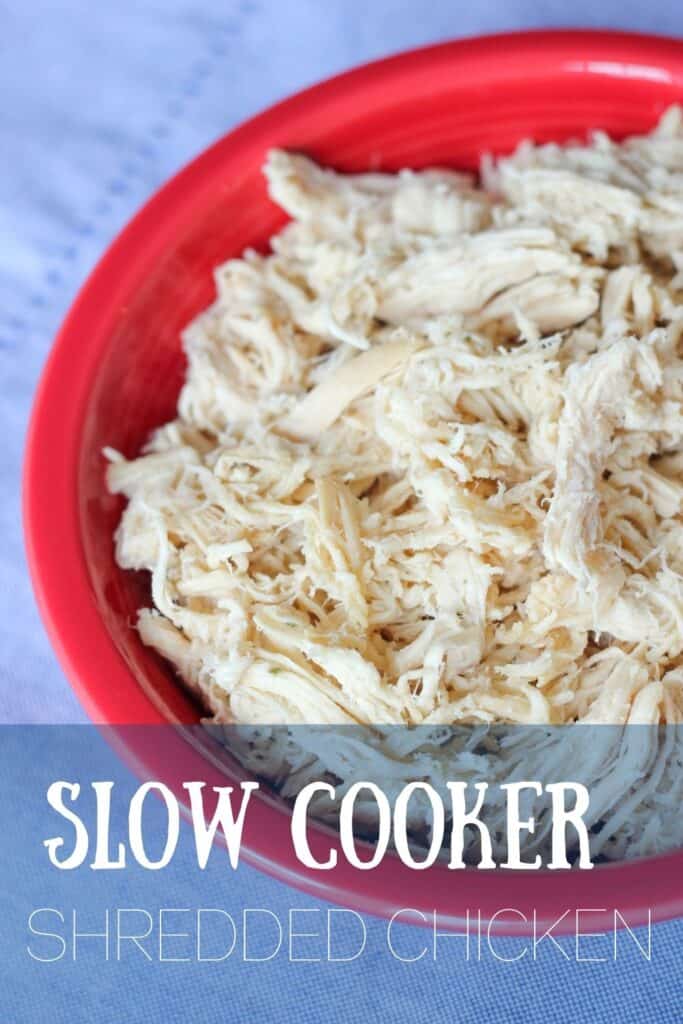 HOW TO MAKE IT
Slow Cooker Shredded Chicken couldn't be easier to make. All you need is a crockpot!
PLACE– chicken in a large slow cooker.
ADD– chicken bouillon cubes, garlic powder, onion powder, parsley, celery salt, and water.
COOK– allow to cook until very tender.
SHRED– using two forks or a hand mixer, shred the chicken.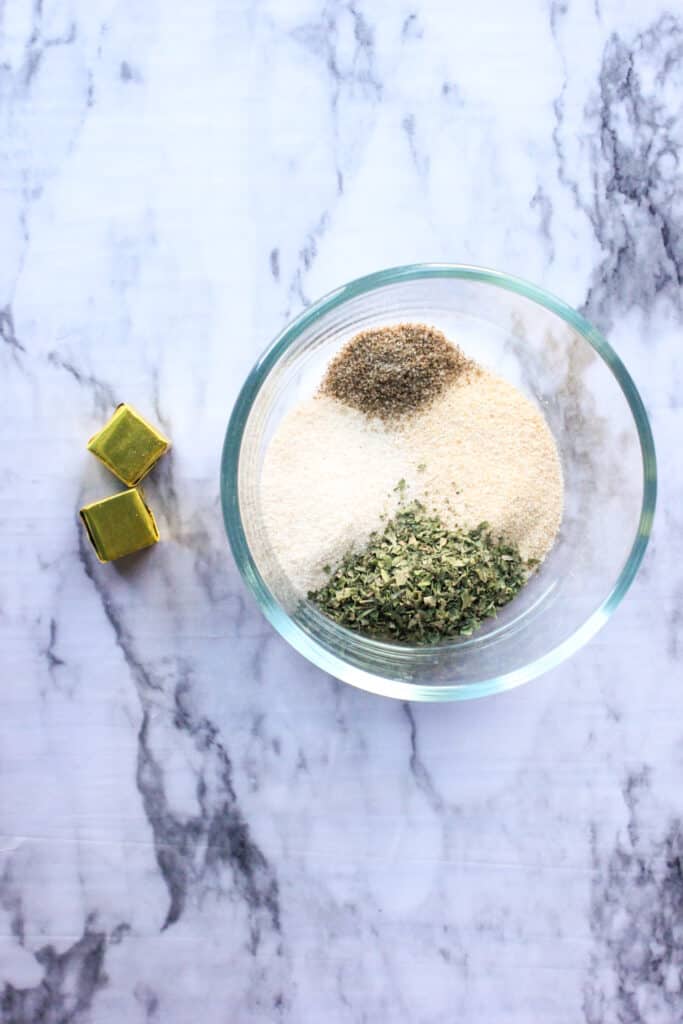 INGREDIENTS
CHICKEN: boneless, skinless chicken breasts are best used for this dish.
CHICKEN BOUILLON CUBES
GARLIC POWDER: I always have garlic powder on hand but fresh or minced garlic could be used as well .
ONION POWDER: diced onion could be used too.
PARSLEY
CELERY SALT: diced celery would work if you have it on hand.
WATER
VARIATION OPTIONS
CHICKEN– I recommend using boneless, skinless chicken breasts but chicken thighs could be used as well. They tend to give off more grease so I would use a little less water.
CHICKEN BROTH– this could be used in place of chicken bouillon cubes and water. However, there won't be as much savory flavor and I would add more salt to compensate.
SEASONINGS– you could adjust amounts of seasonings or eliminate a particular seasoning. This is more to your taste preference. You could use fresh herbs and spices as well.
PEPPER– if you like a hint of spice, add some black pepper.
BUDGET/TIME-SAVING IDEAS
I am always looking for ideas to save money or time. Here are a couple of ways this could help you if this recipe is out of budget or you are on a time crunch:
use frozen chicken breasts instead of fresh
use whatever fresh or dried herbs you have on hand
meal prep- lasts up to 3-4 days in the refrigerator or freeze up to 3 months
HEALTHY ALTERNATIVES
If you're needing to reduce sodium, add just one chicken bouillon instead or use salt-free herbs and spices.
WAYS TO USE SLOW COOKER SHREDDED CHICKEN
This recipe for Slow Cooker Shredded Chicken can be added to a wide variety of dishes such as casseroles, soups, salads, and sandwiches. A few ideas are:
Poppyseed Chicken Salad
Chicken Tortilla Soup
Buffalo Chicken Dip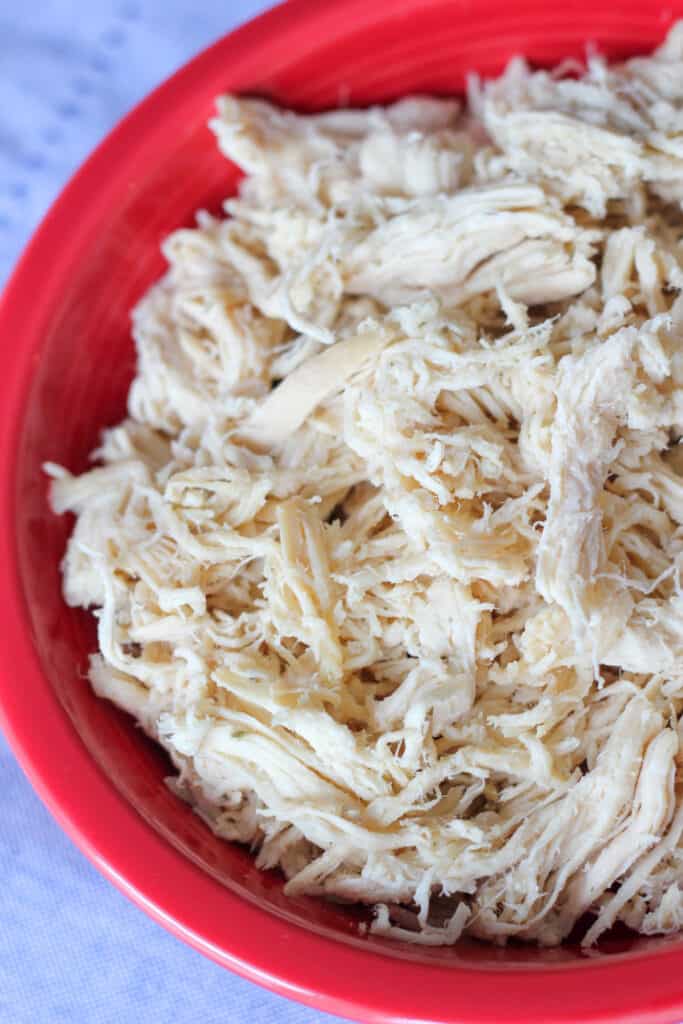 This Slow Cooker Shredded Chicken recipe is perfect to help you with your meal prep from sandwiches and salads to casseroles and one-pot meals. You'll want to make up this large batch to keep stocked in the freezer to save time and money.
Nutrition Facts
Slow Cooker Shredded Chicken
Amount per Serving
% Daily Value*
* Percent Daily Values are based on a 2000 calorie diet.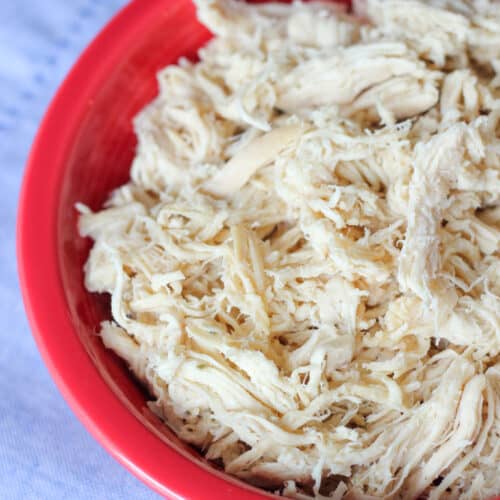 Slow Cooker Shredded Chicken
Slow Cooker Shredded Chicken is an easy recipe to have fresh savory chicken on hand for every meal. Create a delicious chicken salad, add it to your favorite casserole dish, or freeze it to make meal prep a breeze. It's easy to make and budget friendly!
Ingredients
5

lbs

chicken breasts

2

chicken bouillon cubes

1

tsp

garlic powder

1

tsp

onion powder

1

tsp

parsley

1/4

tsp

celery salt

3/4

cup

water
Instructions
Add all ingredients in a slow cooker.

Cook on high for 3-4 hours or low 5-6 hours. Internal temperature should be at least 165 degrees.

Remove lid and shred the chicken with 2 forks or a hand mixer.
Nutrition